The Job Pool is a list of unassigned jobs chosen by a manager/administrator that technician can assign to themselves depending on their schedule.
Job Pool list
In order to see those jobs go to the Menu > Job Pool.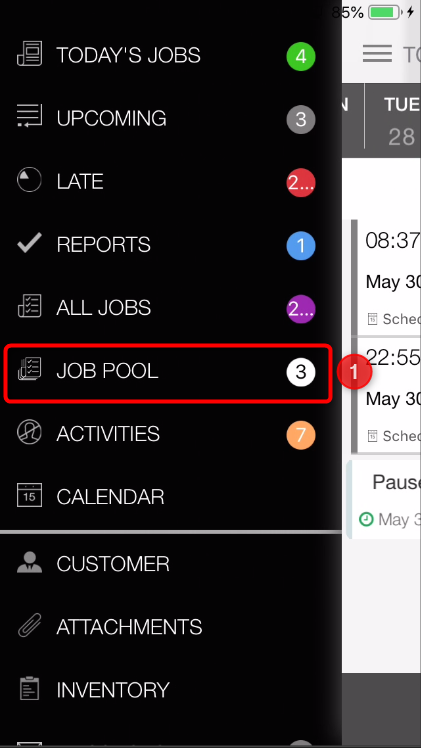 Form there you can see a list of unscheduled and unassigned jobs that you can add to your schedule.
You will be able to see each job's scheduling preferences (discussed below), the job number, job type, its priority as well as the customer's name.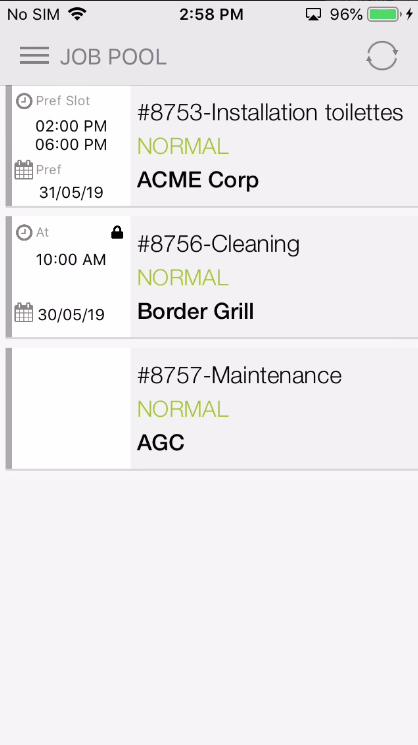 Jobs are filtered by their job number but you have the ability to filter them by priority, date, customer, site, equipment, location and proximity.
Schedule a job
In order to schedule a job from the job pool list, first select a job (1).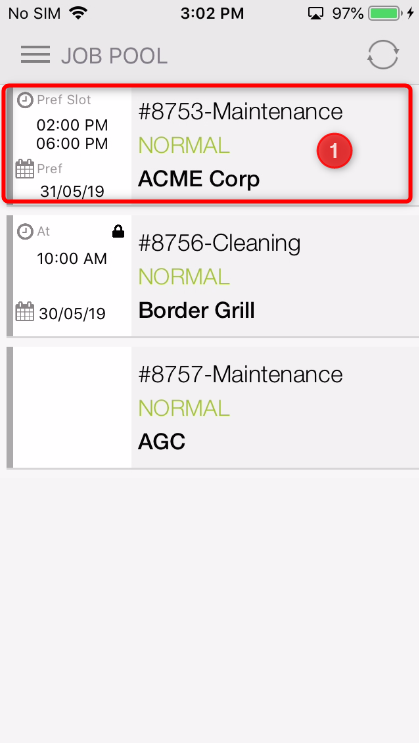 At the top you can see scheduling preferences (1) (if provided) as well as the job type's estimated duration (2).
Underneath, you will be able to view the job's details (3) (contact information, address...) as well as its custom fields and attachments if they have been added by the manager/administrator (4, with a swipe to the left).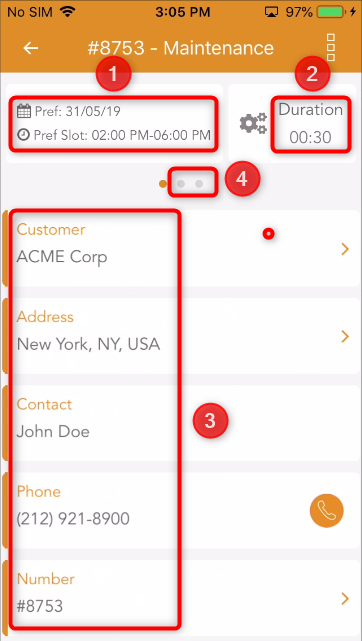 The next step is to click on the 3 dots at the top right of the job (1), then click on the Schedule button (2).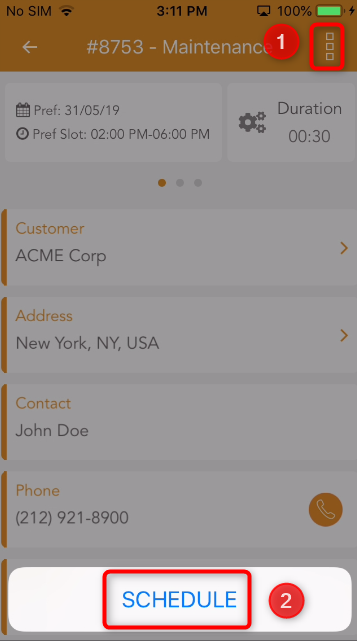 Select a date
Select a start time
Select an end time. The end time by default will be the result of the start time added to the job type's duration
Click on Validate
Please note that by selecting the date you will be able to view all your scheduled jobs for the day (5) in order for you to check your availabilities.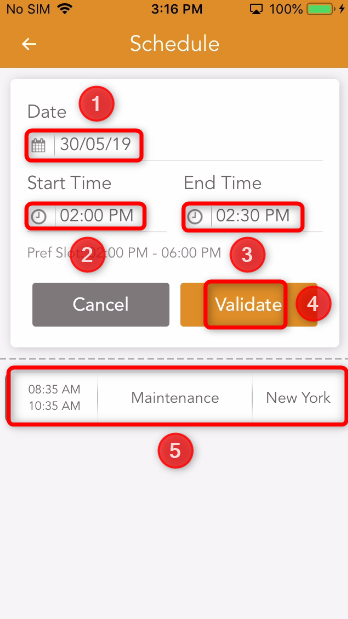 Scheduling preferences
They are 2 kinds of scheduling preferences : preference dates and time slots and meetings.
You can view these preferences on the left side of the job. If this section is empty then you can schedule the job at any time based on your own schedule.
Preference date and time slot
If a job has a preference time slot (1) and/or a preference date (2) then the date and start time of the slot will be set by default as an indication of scheduling preferences.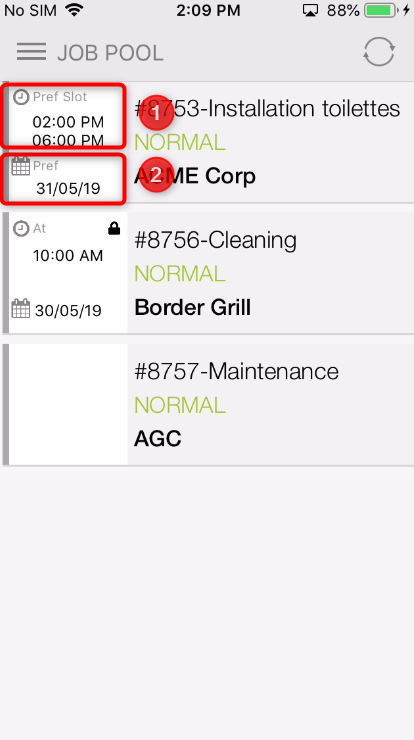 However, the technician can edit both of them if it doesn't suit their own schedule.
In the example below, by clicking on the start time the technician can select another time. Note that because we have selected an time which is outside of the preferred time slot, the "pref slot" is highlighted in red as a warning.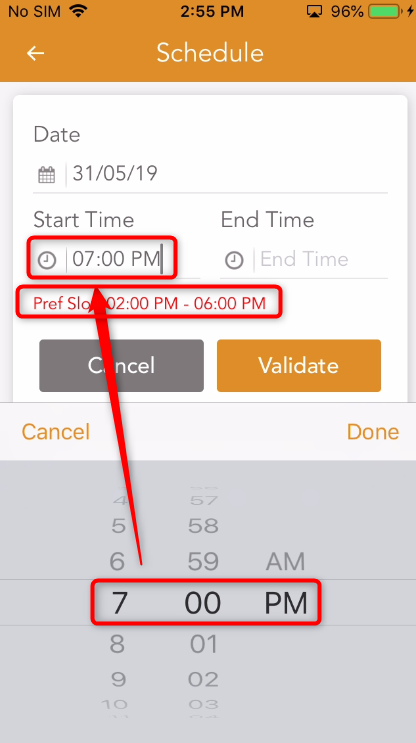 Meeting
When a job has a meeting date and time then you will be able to see a lock icon next to the job's preferences.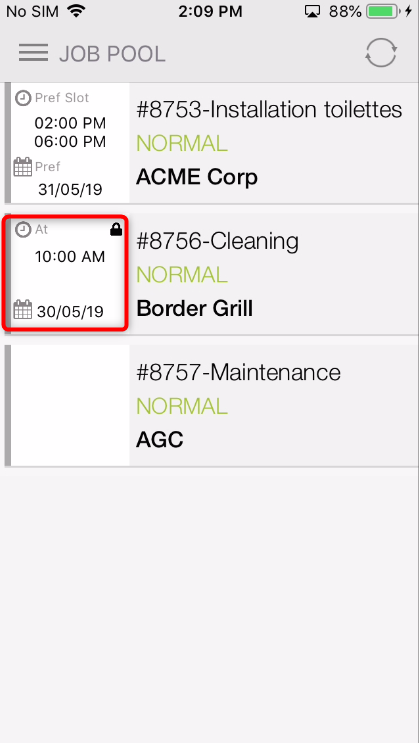 Unlike a job with a date and time slot preference, a job with a meeting has a locked date and start time.
The technician will only be able to change time if he doesn't want to apply the default job type duration.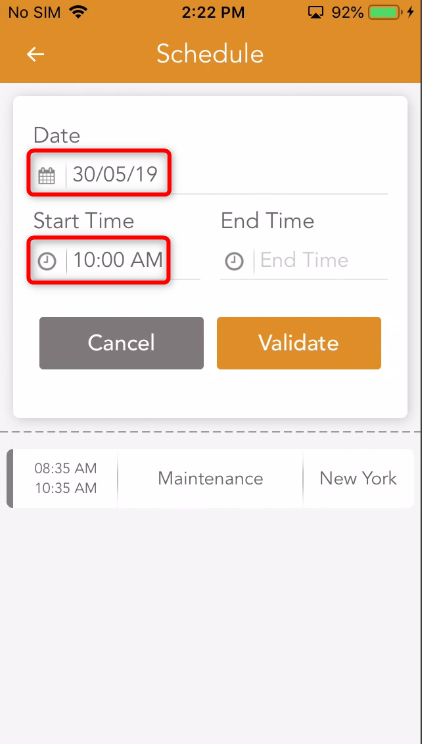 Please note that jobs from the job pool can also be scheduled by other technicians therefore if another technician is currently scheduling the job then you will get a message telling you that the job is not available for scheduling.