Synchroteam allows you to publish your own customized Job Report Templates thanks to Word2Pdf.

The feature Word2PDF allows you to create templates for all of your job reports.
This will enable you to add your own variables and change the format of your job reports.
Go to the tab (1) Configuration, in Job Report Templates (2) then click on the button Change Default Template(3)



Publish a custom Job Report Template by default

You have by default a Synchroteam report.

Click the Preview button and choose from the drop-down list one of your jobs in order to check if this model suits you. Know that it will also take into account your logo (see article: Upload your logo).

If the report model Synchroteam doesn't suit you, you can click on the button Download Example (2). For instance, if your logo resolution isn't right you can use Word2Pdf and insert it in your Word Job Report Template.

By doing so, you will get a Word file in which you can make several changes both in the substance and on the format. (See the article Create a custom job report template)

Once you have completed all of your changes, you can click on the Upload button (3).






By clicking on User Guide, you will get all the information needed in order to create your own report template.

Once the template has been uploaded you can click on the Preview button.




Select one of your jobs in order to preview your template.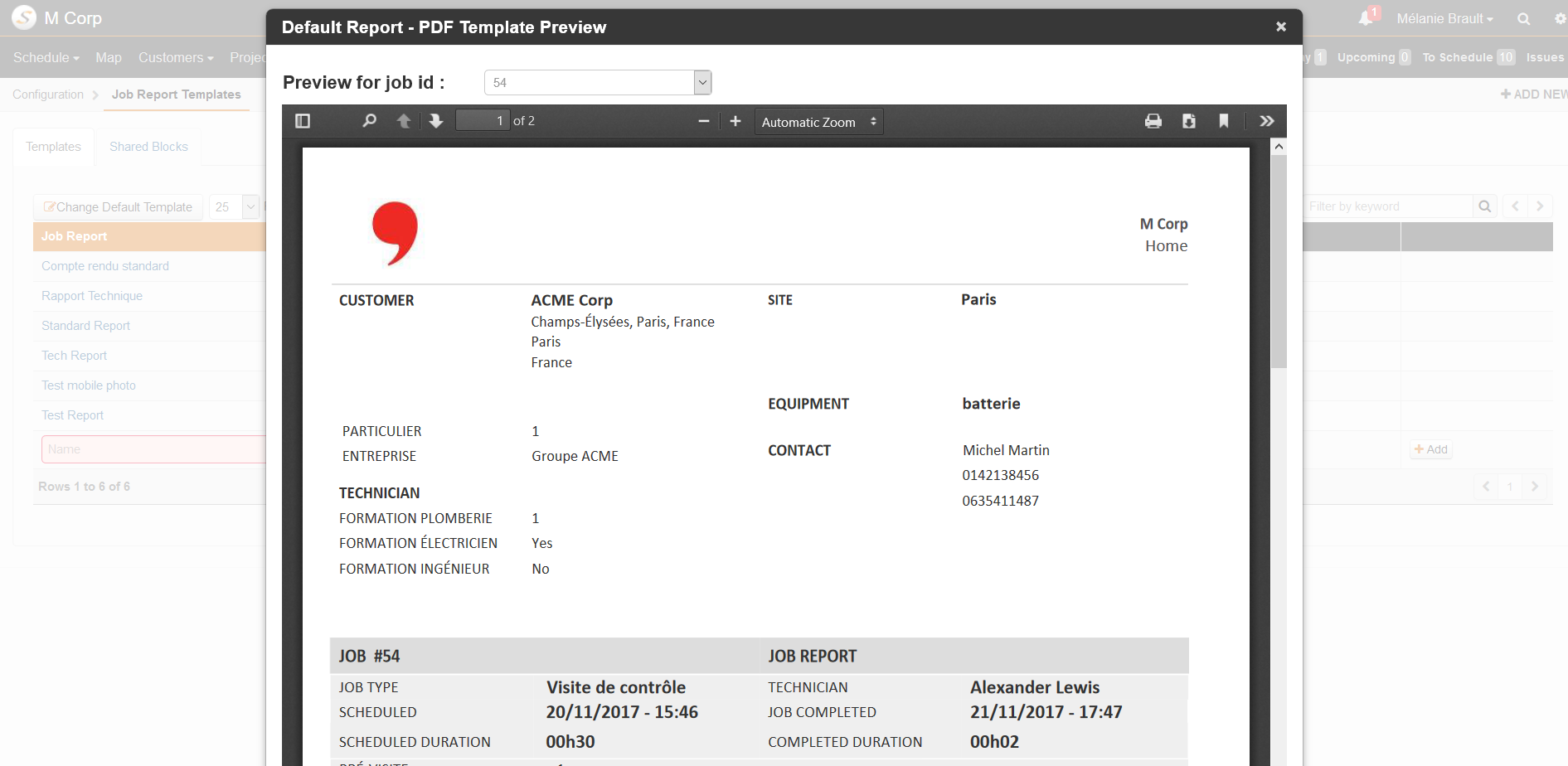 If your configuration suits you, click on the Publish button.
You will thus replace the Synchroteam report with your own report template, which will apply by default to all your future reviews.

Download or restore your default report template


By clicking the Download button (1) you will get the Word of the template you had previously uploaded.

If you want to modify it or delete it, click the button Restore Default (2).
In doing so, the Synchroteam Default template will become the new Active Template and your old template will end up on the line "Test Template".

Publish other custom Report Templates

If you want to apply other models to account for some reports, return to Job Report Templates and on the line of the report for which you would like to apply a different template, click in the 4th column PDF Template.




Upload your new template, click on Overview, if necessary, and then click on Publish.
The Default Template will consequently be replaced by your new Template, and this only for the selected Job Report.