Synchroteam run various reports including 4 default reports and your own custom reports (see article: Create a Custom Report)
Default Reports
To run one of the 4 default reports, simply click the "Reporting" tab and then choose a report (e.g. Parts & Services).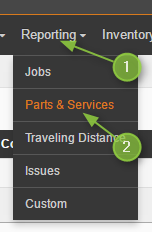 By default, the report runs for all technicians, for the current week.



You deselect "all" and choose a technician from the drop-down list.




You can modify the date range.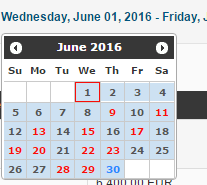 Your report displays the new data.



The 4 predefined dashboards are as follows :
Jobs : it displays the list of all the timelines for each job and activity carried out during the chosen date range.

Parts and Services: it displays all the parts and services added to each job performed during the chosen date range (several lines possible per job).

Distance traveled (recorded and expected) : it shows you the distance traveled per day for each technician who had jobs during the chosen date range.
(Note that the actual distance remains at 0, if the technician does not have his GPS tracking enabled)

Issues : it displays all the issues entered by the technicians during the filling of their job report on the app during the chosen date range (several lines possible for a single job). (see the article: Issue)

Custom Reports
Using a custom report is slightly different.

After clicking on "Report" and then "Custom", you must select the report template (1), the job status from the drop-down list (2) in addition to the list of technicians (3) and date range (4), then click on "Execute" (5).





The report is displayed.



Exporting
Once you have displayed the report of your choice, you can export it to Excel.
To do so, simply click on the "Export to Excel" button.


Keep in mind that your exported file will contain all your jobs displayed after the execution of the report and will not take into account the filter by keyword you might have set.
If you cannot export your reports under Excel please click here.