Goal
Synchroteam's new ScheduleAssist feature will suggest an optimal job time slot by taking into consideration :
- Each technician's set of skilled trades
- The skills required for the job type
- Your work schedule
- Current technician availability
- Optimize by earliest arrival time, or quickest travel
It will also take into account your Scheduling preferences:
- Scheduling window
- Date
- A preferred team of technicians
- A technician in particular
Configuration
Boundaries
In the general configuration of your account you can apply limits to the Schedule Assist settings:
To do this, go to CONFIGURATION (1) > Options (2), enter a numerical value (3) and select the unit (4):
- min (Minutes)
- km (Kilometers)
- mi (Miles)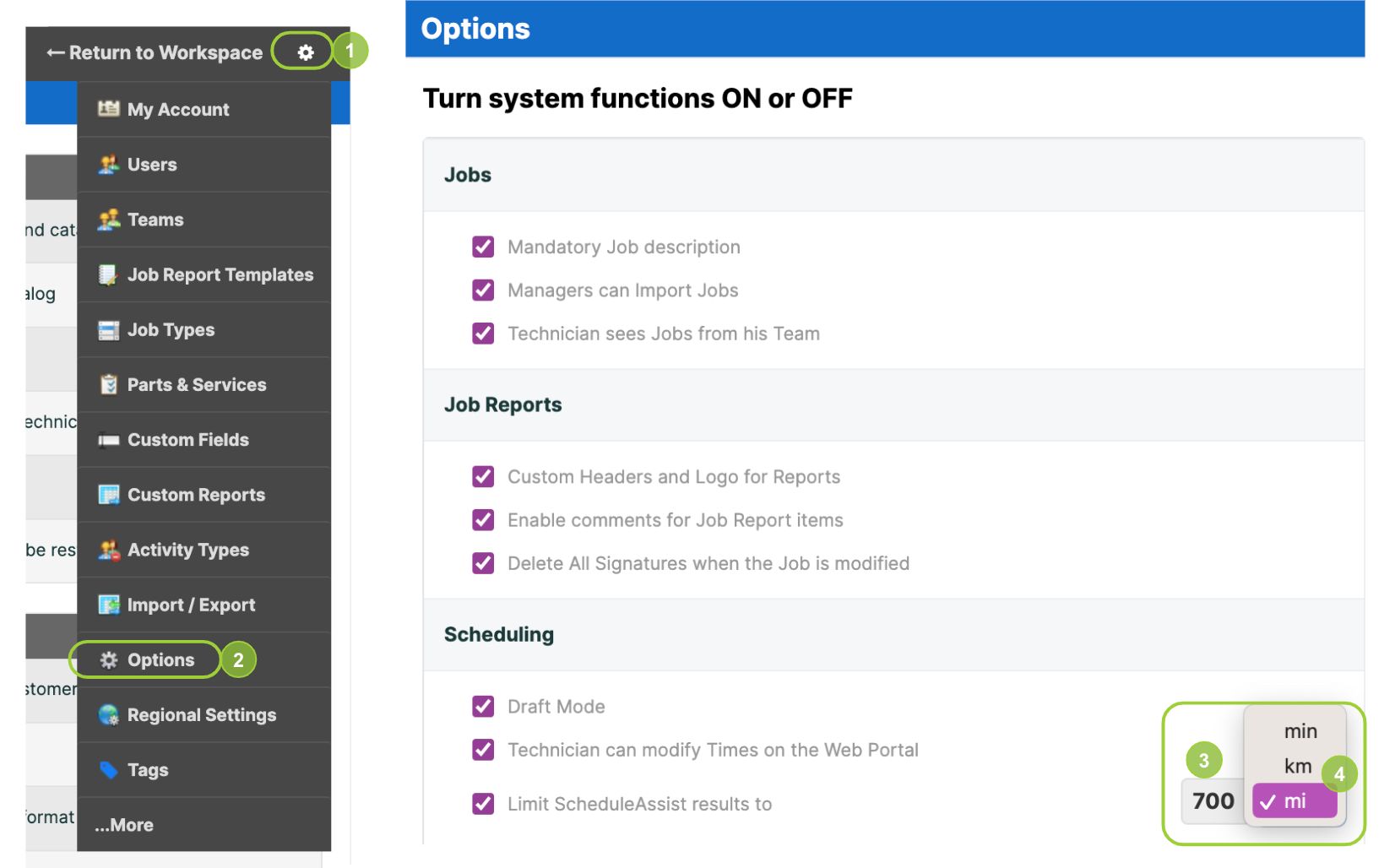 Skills
You can define a set of skilled trades for every technician :
For more details please refer to the article "Create a User".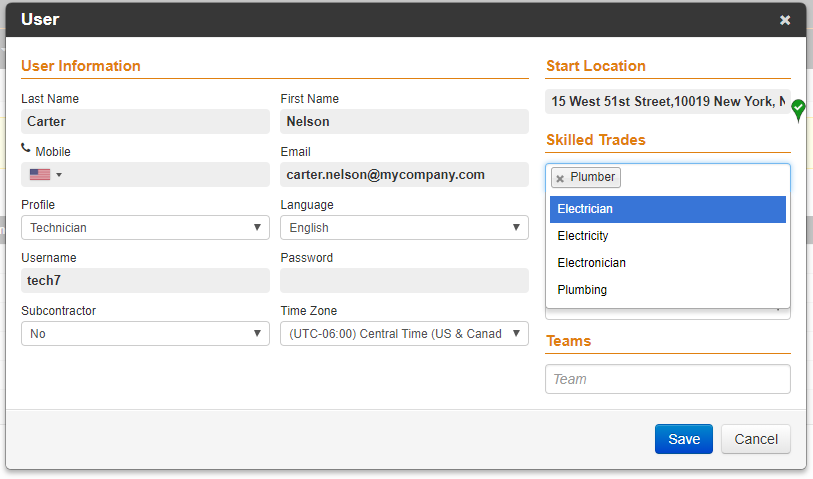 Job Type
You can also defined the default skilled trades required for each job type within Synchroteam.
For more details please refer to the article "Job Types".

Under "Settings" > "My Account", You can define your technicians' regular service hours :
Scheduling Preferences
You can set scheduling preferences when you create a job or when you edit it.
Synchroteam allows you to create time windows (1) in order to set specific time frames for your jobs.
Within the same list you can also decide to create a meeting and block the date and time by selecting "Specific Date and Time" (2).
You may also decide to choose a preference date, a team of technicians (3) or a technician in particular (4).
Oncee you have filled in those fields the ScheduleAssist will help you find the best time to schedule your job based on the information given.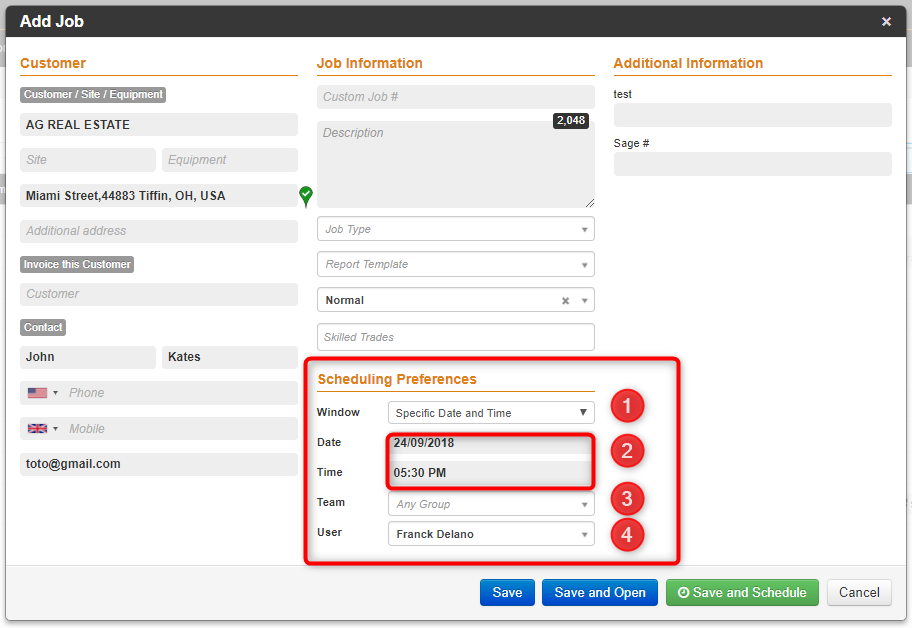 Starting Scheduling Assistance (ScheduleAssist)
From the Schedule "Day" page, you can click on the wizard button next to a job to start the ScheduleAssist.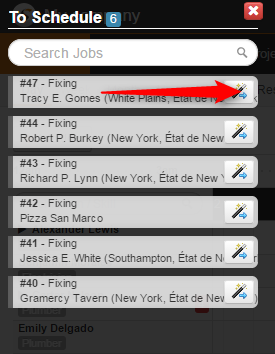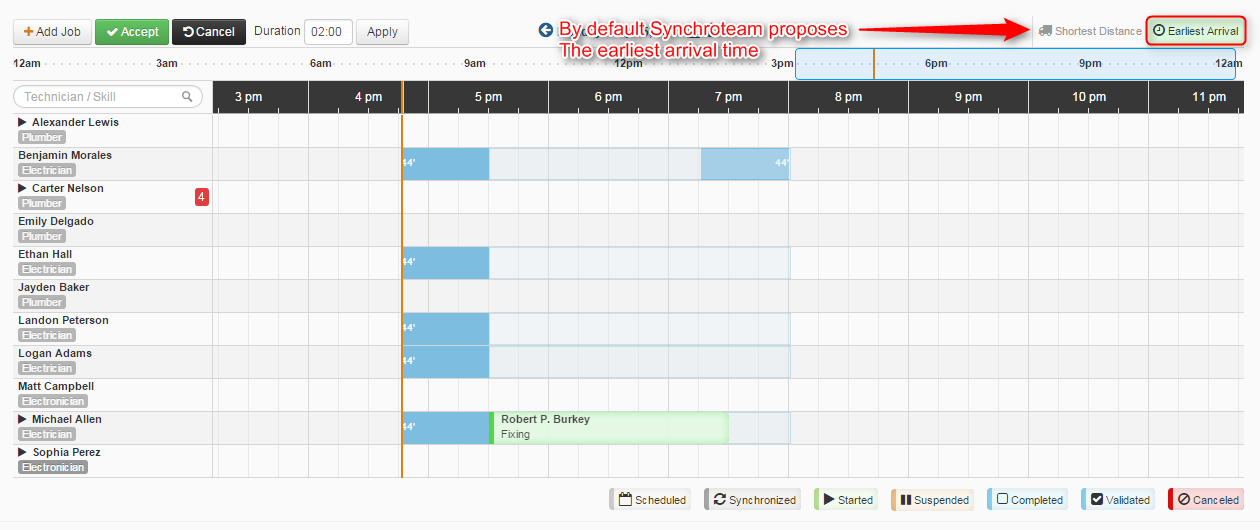 When you create a new job, by clicking on the "Save and Schedule" button