Synchroteam allows you to create Recurring jobs, which is a series of a repeated job.
This feature will also enable you to assign time Windows and frequencies to those Recurrences, and to automate their creation and planning.

1 - Click on Jobs
2 - Click on Recurring
3 - Click on the Add Recurrence button




1 - Fill Job Description / Job Type / Report Template / Priority
To set the job duration see article: Job Types
To create report template see article see article : Reports, creation and use
2 - Select Customer / Site / Equipment / Address / additional contact information
3 - Choose the Frequency at which the job will occur
If a client requires a Wi-Fi checkup once a week, then select « 1 » and « Week ».
4 - Select Start date / End date (optional)
5 – Select a specific time or select a Window
To select a window, you must create it beforehand (see article: Create a Window)
6 - Choose to only create the job or create and schedule it
7 - Select the frequency at which the job will be automatically created and scheduled
If you wish to create and schedule each one of your recurring jobs a month in advance, then select « 1 month in advance ».
However, if you can't schedule your jobs this long in advance choose a shorter time frame.
8 - Provide information in your job custom fields
9 - Click on Add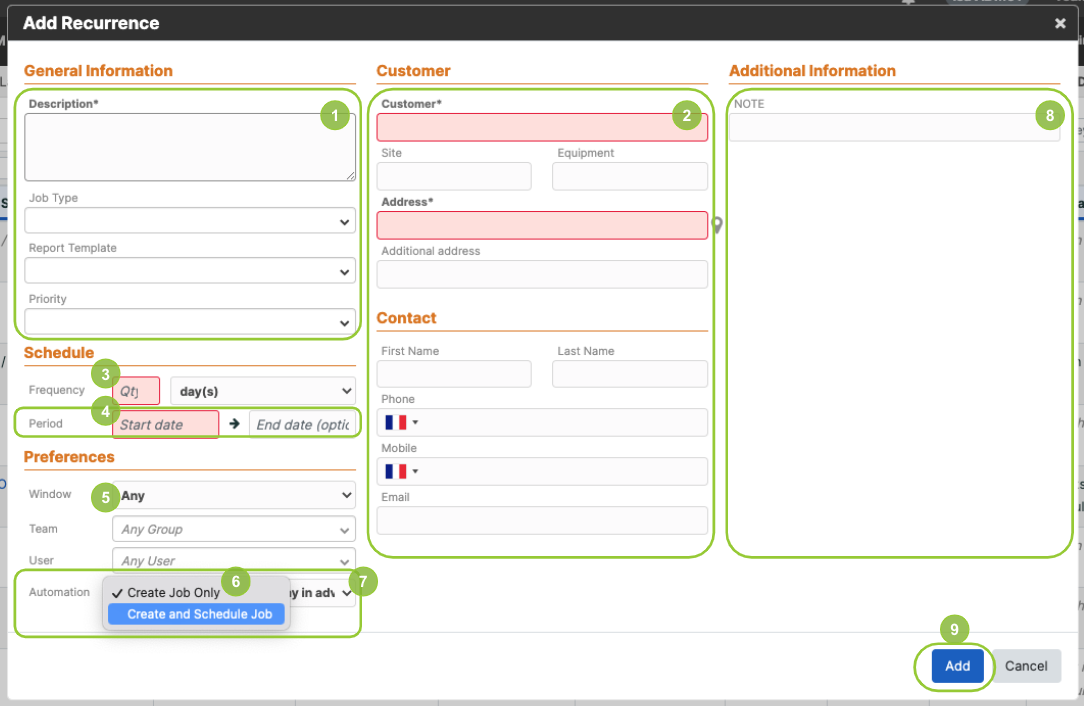 You wish to create an electricity daily checkup for your client (1) and this job will automatically be created 1 day in advance (2).
However, you will only be creating the job and not be scheduling it ahead of time (3).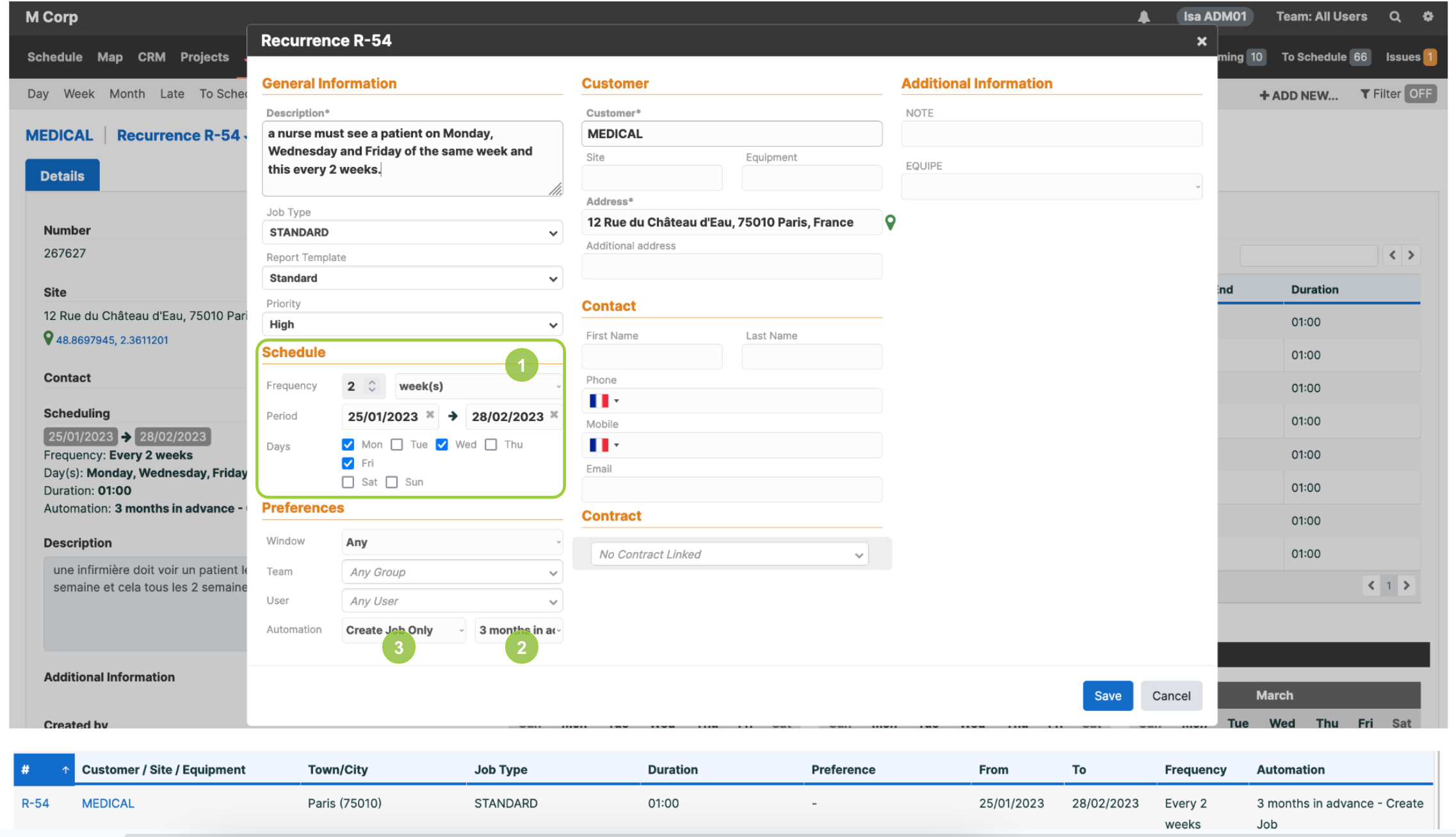 In terms of frequency you have the choice between days, weeks, months and years.
You can also choose the days during which you would like the job to be repeated.
For instance, if a nurse needs to see a patient on Tuesday, Friday and Saturday of the same week and this every two months then do as seen in the picture above.

If you wish to create a recurring job for one of your clients and they are only available at a specific time, then you can choose to directly create and schedule the job, as seen below.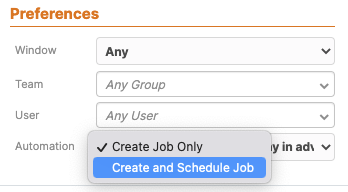 Edit Recurrences and view its calendar:
Both types of Recurrences (scheduled or not) are found under Jobs (1) > Recurring (2) and can be edited by clicking on the Details button (3).





You can now view the Recurrence's details and view all the jobs that have already been scheduled and those which will be.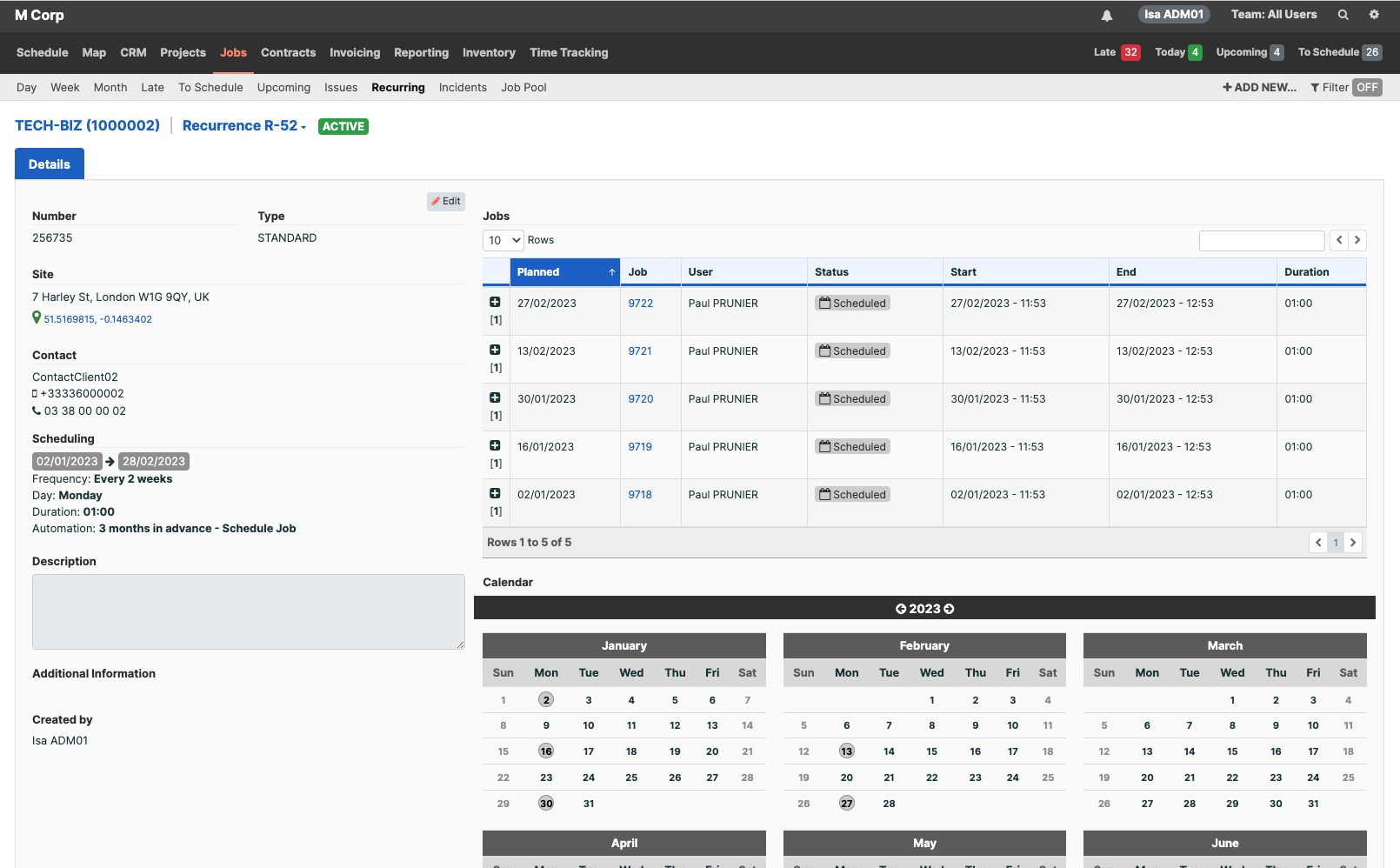 In the above case, we have set a daily automation, therefore we can see that the auto-create (in yellow) is made a day in advance.
When in grey the job has already been scheduled and what is in orange is today's date.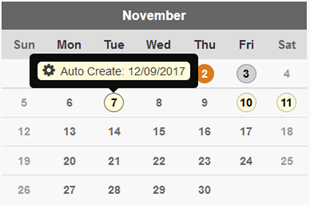 Preview Recurrences to be scheduled:
In the tab To Schedule (1) you will be able to find all jobs which haven't been scheduled yet.
In the far-right column « Intended » you will see a symbol showing which jobs will be repeated in the future. (2)
Furthermore, will only appear the jobs which were scheduled during the following 14 days. (3)


Go to the Schedule tab (1) under To schedule (2), you will find your recurrences thanks to the symbol (3)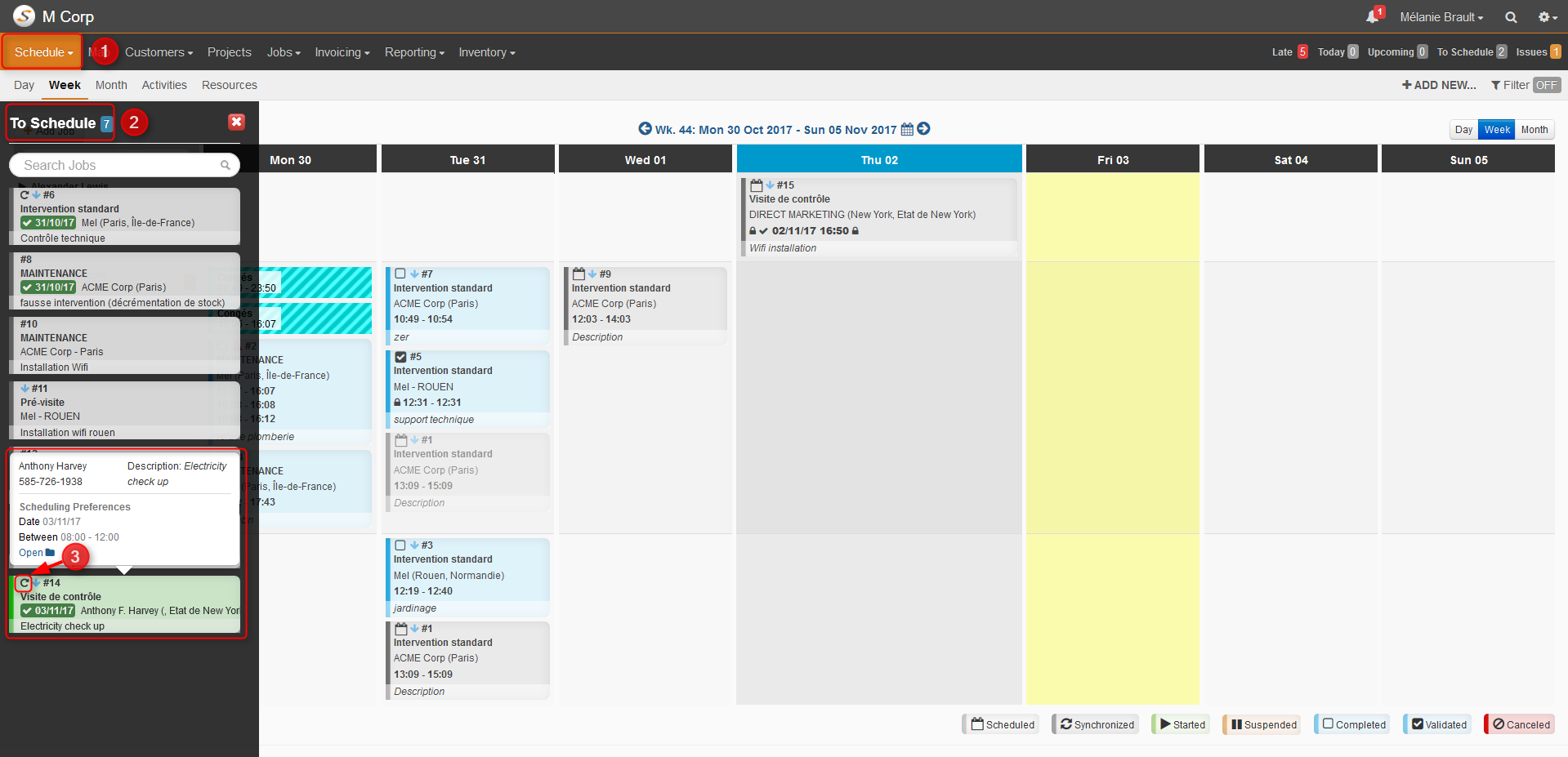 The yellow time frame indicates the time slot during which you previously set your Window.
Nevertheless, you may schedule the job in the afternoon if it suits you better or if two (or more) jobs overlap.





If it happens that two jobs overlap in a technician's schedule, you will see a second red line in their schedule indicating you that there is a conflict (1).




You may then reschedule one of the jobs by dragging and dropping it to another time (2).