First step
In the "Jobs" tab click on "Add Job"
Please note that you can also add a job from the Schedule tab, by clicking on a client/site/equipement or by clicking on "Add New" on the right hand side of your screen.

Second step
In the Job window, please fill in at least all mandatory fields highlighted in red and click on one of the "Save" buttons.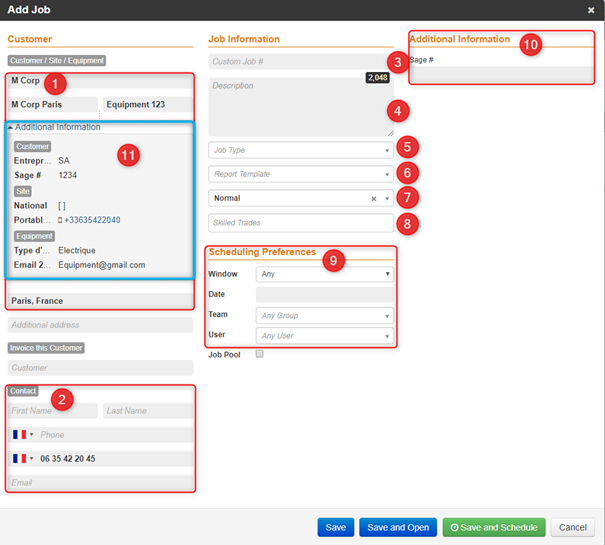 To create a Job, fill in all required fields (red fields are mandatory).
​Customer name and address. The autocompletion will allow you to select a Client / Site / Existing equipment and pre-populate certain fields (address, contact information, etc.)
The Contact information is automatically retrieved from the client or site. You can complete / Edit those fields.
Job ID can be customized if you want to replace the one that is automatically provided by Synchroteam.
Job's description.
The Job type is a drop down list created by the administrator of your account. When selected it will autocomplete Fields 6, 7 & 8. You can complete / Edit them.
Job report that will be completed by the technician on his mobile device.
Priorities : low, medium, high.
Skill(s) required to perform the Job. This is also used by the ScheduleAssist optimization routine. (See article Optimize Schedule)
Scheduling preferences can be used if you decide to create the job and for instance use the Schedule Assist, which will take your preferences into account in order to try and find the best suitable time or technician for the job.
Job Custom fields
Additional information (It is visible if the custom fields on customer/site/equipment are filled)
Once you have completed the job information, click on one of the "Save" buttons based on your scheduling preference:
- "Save" : the job is created and is added to the list of jobs To Schedule.
- "Save and Open": the job is created and is added to the list of jobs To Schedule and you are redirected to the job's details page
- "Save and Schedule" : the job is created and you will be able to schedule the job in the Scheduling window.
To see how to Edit a Job click here.
Should you wish to import your jobs please refer to the article "Bulk Jobs Import".